Coaches
---
Meet Our Coaches!


Coach Sara - Head Coach AquaGO! and Masters Division

I'm Coach Sara. I've been involved in Artistic Swimming for over 30 years! When I was young, I started in dance and gymnastics and loved the creativity they allowed me. I had the opportunity to see an artistic swimming (then called synchronized swimming) year end watershow and was inspired by what I saw. I started swimming competitively that fall when I was 8 years old and was completely hooked. I loved synchro very much and competed provincially and inter-provincially for 8 years. After taking a few years off I came back to synchro to coach Masters. I also swam Masters competing provincially, nationally and internationally. I've been coaching for 15 years; all different ages, from 5 to 75 and all different skills and levels from beginner to competitive, children to adult. I love being creative with routines and music. I really enjoy teaching swimmers new techniques and love seeing the look on their face when they accomplish a hard task or goal. I'm also a level 2 certified artistic swimming official/judge. I enjoy judging routines and figures. Judging has given me insight as a coach to creating more memorable routines. I really enjoy being a part of this sport from both the coaching and judging aspects.


Coach Carly - Head Coach Competitive Division

Carly Handsaeme started both her swimming and coaching career with the Lethbridge Synchrobelles Synchronized Swimming Club. She has been involved in Artistic Swimming for 21 years as a swimmer and 11 years as a coach. Carly has been active in sport and swimming since her earliest memories of childhood. From the ages of 5-9 she tried many different sports like gymnastics, figure skating and soccer. She loved all sport that she tried but she started to notice that she was different from the other children that she trained with. Carly was diagnosed with Glaucoma at 2 months of age and would lose most of the sight in her left eye. With most sport this was a big wall standing in the way of her progression. One night her mother convinced her to try Artistic Swimming. From that night on she fell in love with a sport that her Glaucoma would not stand in the way of her ability to succeed. Carly swam one year of recreational Artistic Swimming before moving on to compete at the competitive level for about 8 years. While in her last years as a competitive swimmer, she found new love for the sport through coaching. Carly has had about 11 years of coaching experience with the Lethbridge Synchrobelles Synchronized Swimming Club. During this time, she has had the opportunity to coach all ages of children and adults. As a coach she loves helping people of all ages find joy in learning Artistic Swimming. Artistic Swimming is a sport that will teach you about determination, creativity, and teamwork. Carly is so excited to see everyone at the pool for this season.
Coach Gabrielle - Competitive Coach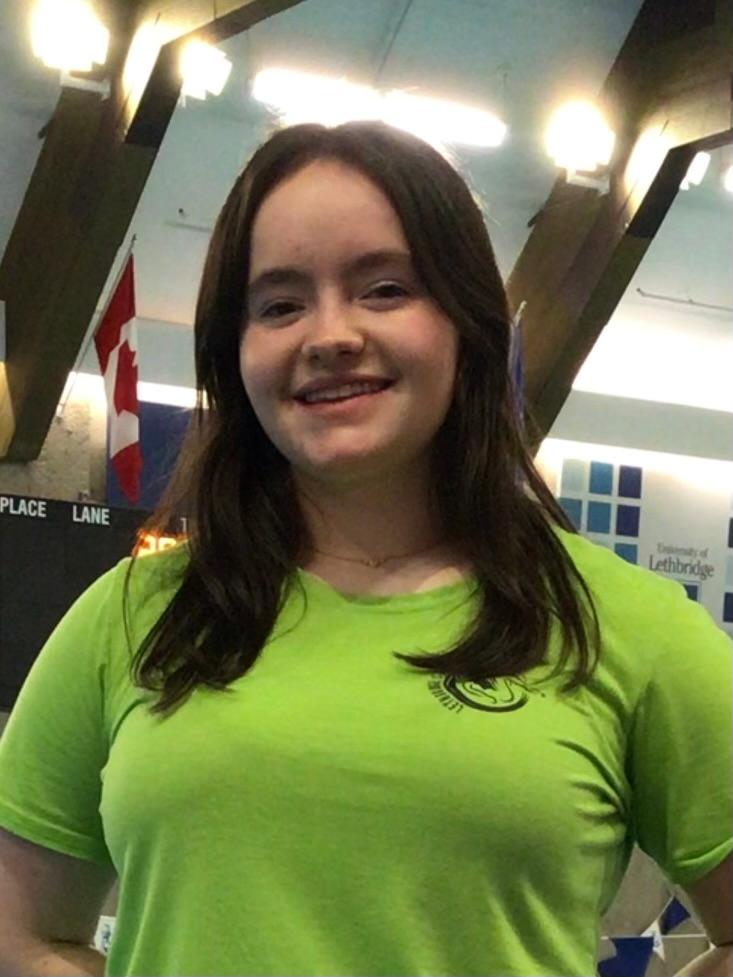 Hi my name is Gabrielle! I have been an artistic swimmer for 10 years. I have been coaching in Edmonton for the last three years. I moved to Lethbridge this year to study math at the University of Lethbridge, and I am very grateful that I get the chance to work with the Synchrobelles. I will be coaching the competitive swimmers this season and I can't wait to see what they can do!
Coach Mia - AquaGO! Coach

Hey everyone, I'm Coach Mia! When I was 10 years old, Coach Sara invited me to come see a synchro performance, and ever since then, I've been in love with the sport. Now, eight years later, I am still swimming and coaching. This is my second year as a coach and I love seeing the friendships that are formed between our swimmers. I am always amazed by the sheer amount of dedication and hard work that all of the swimmers put into every practice. Seeing the athletes improve in their swimming while having fun is truly the best part of this experience. I can't wait to see what the rest of the season brings, and to all the swimmers, I can't wait to see all of you in the pool!